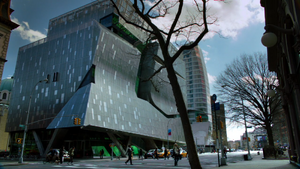 The Ultra Headquarters building was where Ultra were stationed before The Founder, Hugh Bathory's death.
Appearance
Edit
Aftermath
Edit
With Hugh Bathory dead, Stephen had the Tomorrow People move their lair to what was Ultra HQ.
Ad blocker interference detected!
Wikia is a free-to-use site that makes money from advertising. We have a modified experience for viewers using ad blockers

Wikia is not accessible if you've made further modifications. Remove the custom ad blocker rule(s) and the page will load as expected.