Phil Klemmer
is an American writer.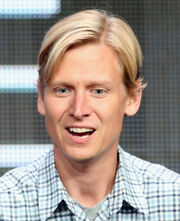 Phil Klemmer is an executive producer on The Tomorrow People. After getting started in TV writing on Veronica Mars with executive producer Rob Thomas, Klemmer subsequently worked on Chuck, with executive producers Josh Schwartz and Chris Fedak, Undercovers, with J.J. Abrams and Josh Reims, Political Animals, with Greg Berlanti, and most recently Golden Boy, with Nick Wooton.
He started his entertainment career working for Propoganda Films and later as an assistant to Michel Gondry. Klemmer grew up in Winchester, Virginia (home of Patsy Cline). After studying Classics at Stanford University, he never left California, where he now lives with his wife, Andy, his two boys, and two genuine human skulls.
Ad blocker interference detected!
Wikia is a free-to-use site that makes money from advertising. We have a modified experience for viewers using ad blockers

Wikia is not accessible if you've made further modifications. Remove the custom ad blocker rule(s) and the page will load as expected.